Virtualsense Official
Staff member
Moderator
Community & Media Manager
Virtualsense Media Team
VCAT Team Member

​
The Shubs and Shoggs felt slighted when the Cultists got so much attention, so we thought we would show them a little love at our Valentine's Day Event. The problem is, they both passed on the word that there's a party in their honor. I don't have to tell you what that means, but just in case it might have slipped your mind, we may be looking at another battle, because in numbers, they are not well-behaved.

Therefore, prepare yourselves, as this time, you may find your challenges more intense.
EVENT DETAILS
Date

/

Time

--> Sat 13th Feb | 17:00 EU Time /

to

/ 20:00 EU Time
​
Hunting Event Specifics
Highest Single Global on Shubs --> Wins a Monria Apartment

Highest Single Global on Shoggs --> Wins a Monria Apartment
Mining Event Specifics
Highest Single Global on Maladrite Stone --> Wins a Monria Apartment

Highest Single Global on Zoldenite Dust --> Wins a Monria Apartment
Valentine's Fashion Contest
Come to the event wearing your most fashionable Valentine's outfit

Kendra and Dark Moon Enigma will be the fashion judges

1st Prize

--> 300 PED

2nd Prize

--> 200 PED

3rd Prize

--> 100 PED
Treasure Hunt
Sometime during the event, there will be a treasure hunt

There might be more than one treasure hunt

Prizes will be items and/or PED

The treasure hunt could be conducted by any member of the Monria Staff
Other Event Information
Globals will be tracked through Entropia Life

A printout of the Globals data will be provided to Anhithe for winner verification

Once winners have been verified, this post will be updated with the names of the winners

The apartment winners will be contacted by DME to set a time and place to deliver deeds

Other prizes will be given out during the event

If anyone will be streaming during the event, please let us know so we can announce it
As a Heads Up
You never know when Count Vamp or Pumpkin Head may appear (<-- did I get those right?)

Keep your eyes sharp, because if you see them, kill them before time runs out and win 50 PED

Oh, and ignore the camera girl, it's just me capturing the essence of Monria's Valentine's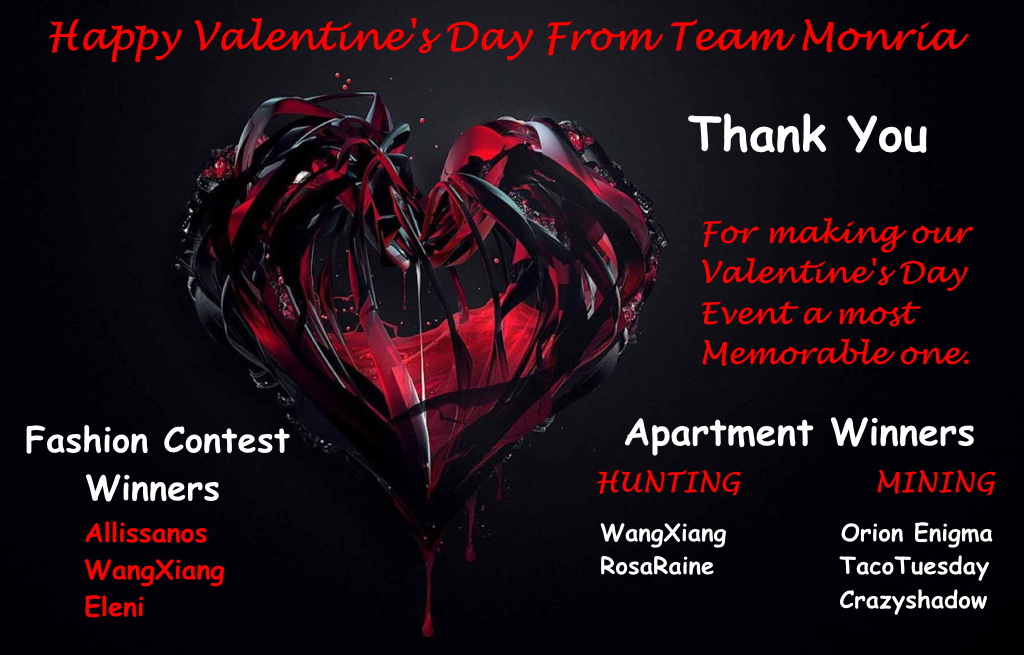 (apologies to Alissanos for misspelling her name on graphic)


Hunting Global Results


Mining Global Results
FASHION CONTEST WINNERS
Alissanos |
300
PED
WangXiang |
200
PED
Eleni |
100
PED
FASHION CONTEST HONORABLE MENTIONS
(50 PED each)


Elora |

Skeezer | Ghost
Dark Moon's " Holy GQ Wow " Award
Oleg
TREASURE HUNT WINNERS
Red Pillow Hearts |
Tilaras & Kinkie
| 100 PED each
Box of Valentine Chocolates |
Crazyshadow
| 100 PED
WINNERS OF " KILL COUNT VAMP OR PUMPKIN HEAD "
Angel of Shadows | 2x @ 50 PEDs each =
100 PED
Ghost Skilled Skorpion | 1x =
50 PED
Kinkie | 1x =
50 PED
Una Griph | 3x =
150 PED
Roth | 1x =
50 PED
Mac Farmer | 2x =
100 PED
HERE's A LITTLE VIDEO OF OUR VALENTINE'S DAY
AFTER EVENT CELEBRATION
(music track is " My Funny Valentine" / Guitar Instrumental)
When I finish the proper after-event story, I will be publishing that in a separate thread.
​