Well-Known Member
Volunteer Mentor
Yamato Pilot
VCAT Team Member
Hey all,
Some players ingame have reported not being able to do forums, so kind of got scared in signing up for the space travel.
This will be a short thread to try and guide those who struggle with computers, i been there
STEP 1.
Click REGISTER on the top of the screen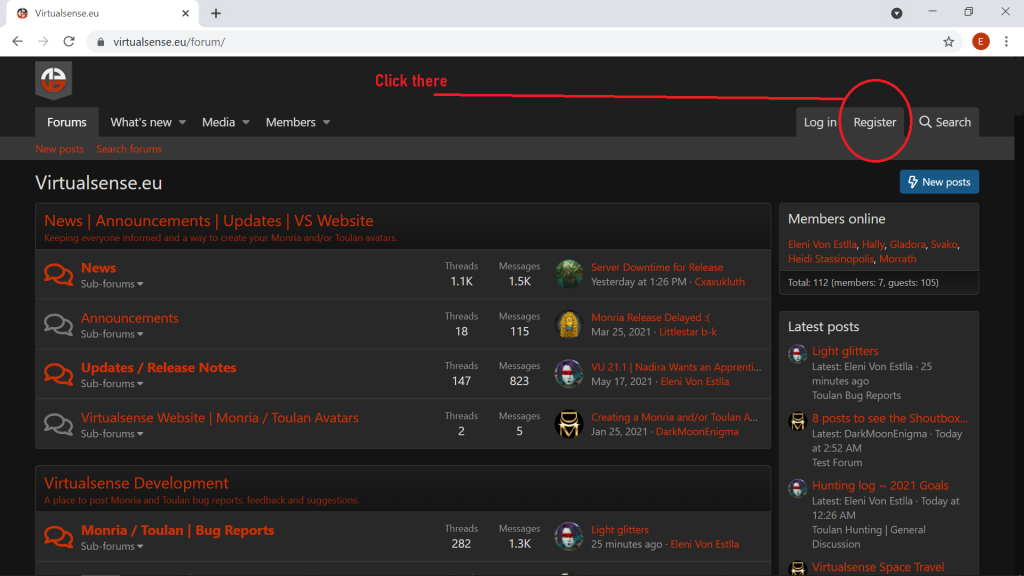 Step 2.
Window pops up, with fields to fill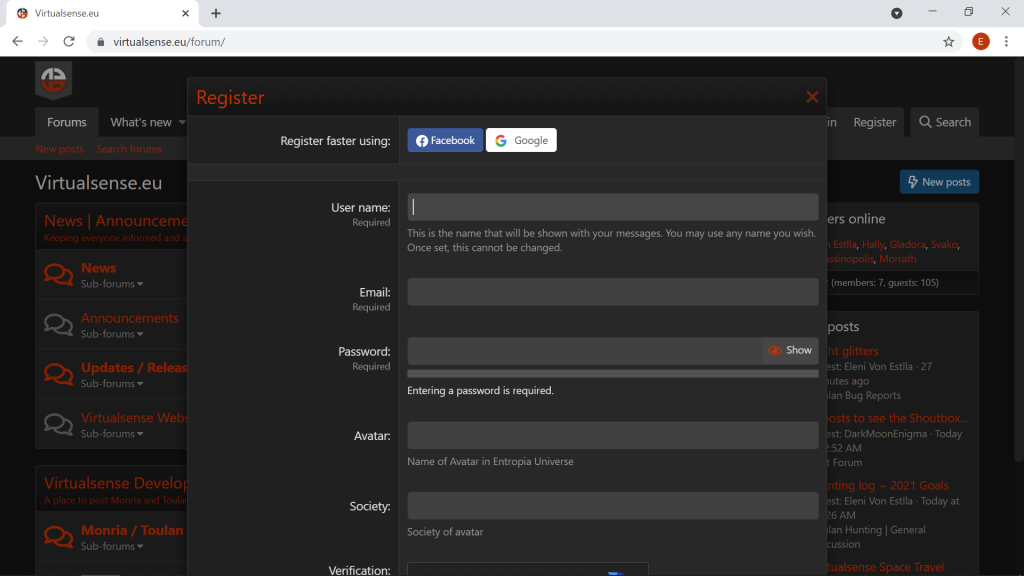 Step 3.
Fill the register fields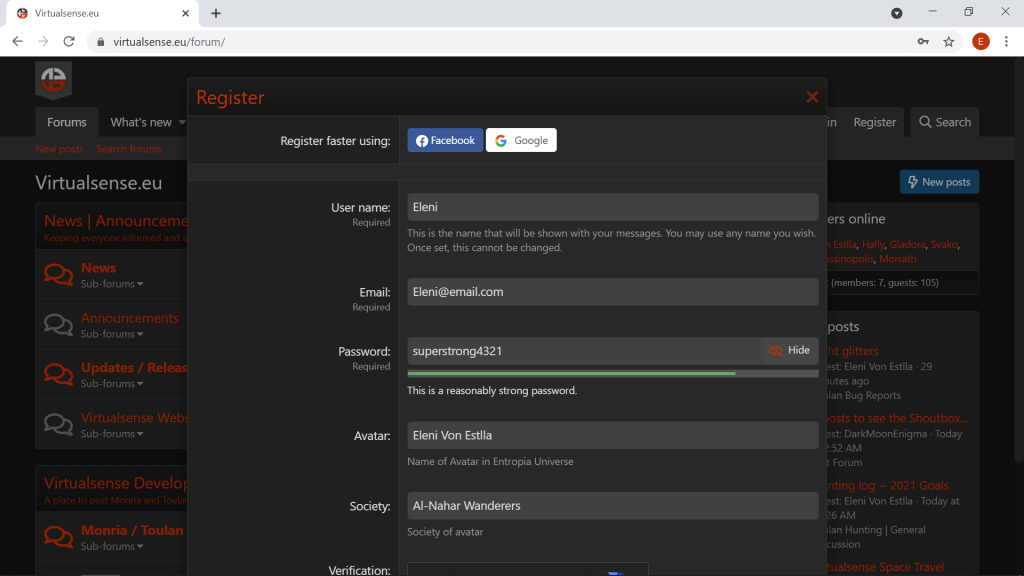 Step 4.
Click AGREE TO THE TERMS (Orange tick box), Then "Im not a Robot" = A window will pop up, click the pictures to verify.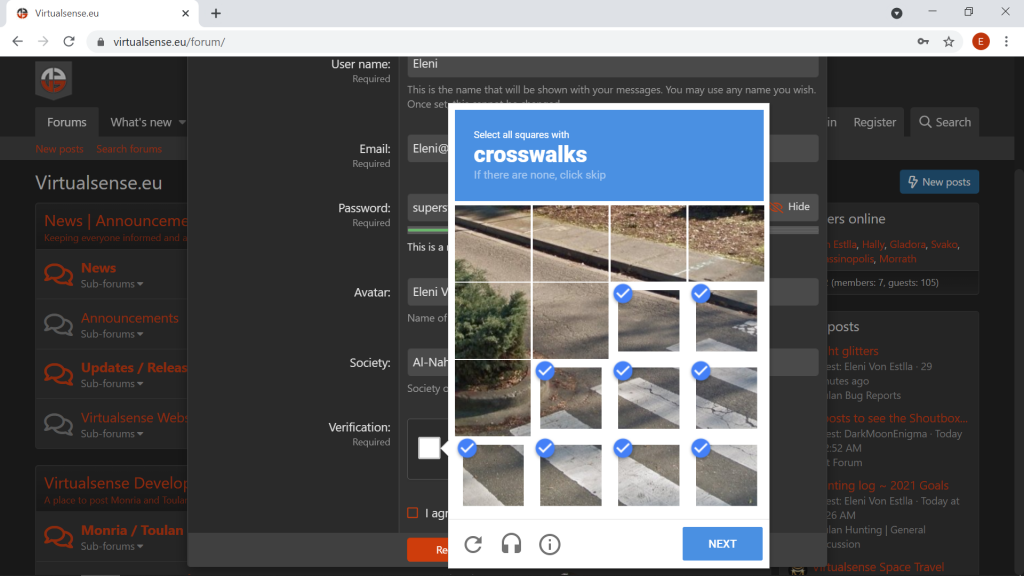 Click next, and you should be registered.
NOTE : You may be asked to verify your email address.
In that case, you just need to go in your mail box, and click in the link in the Virtualsense email. This will activate your account, and you dont need to do this again.
Step 5.
Login, just back on main screen and login, instead of register.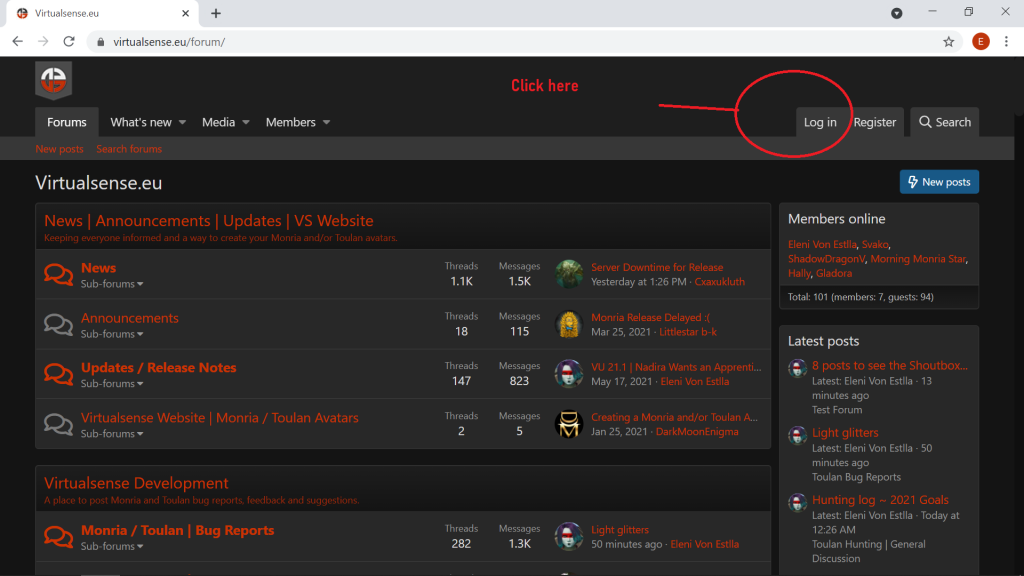 Step 6.
Fill in your login, the ones you entered 2 minutes ago when you registered.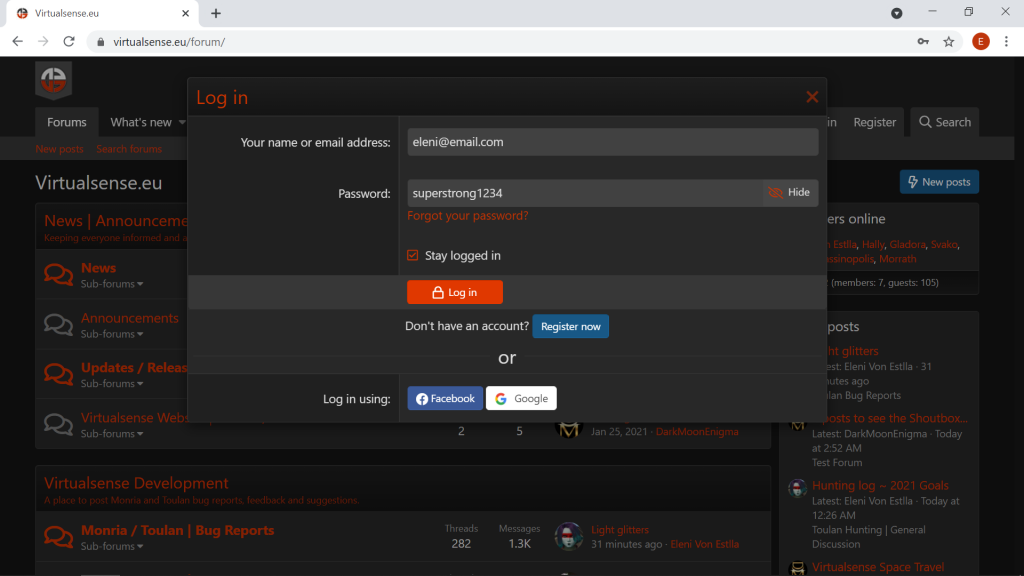 Step 7.
You should be on the main screen, with your name on the top on the window.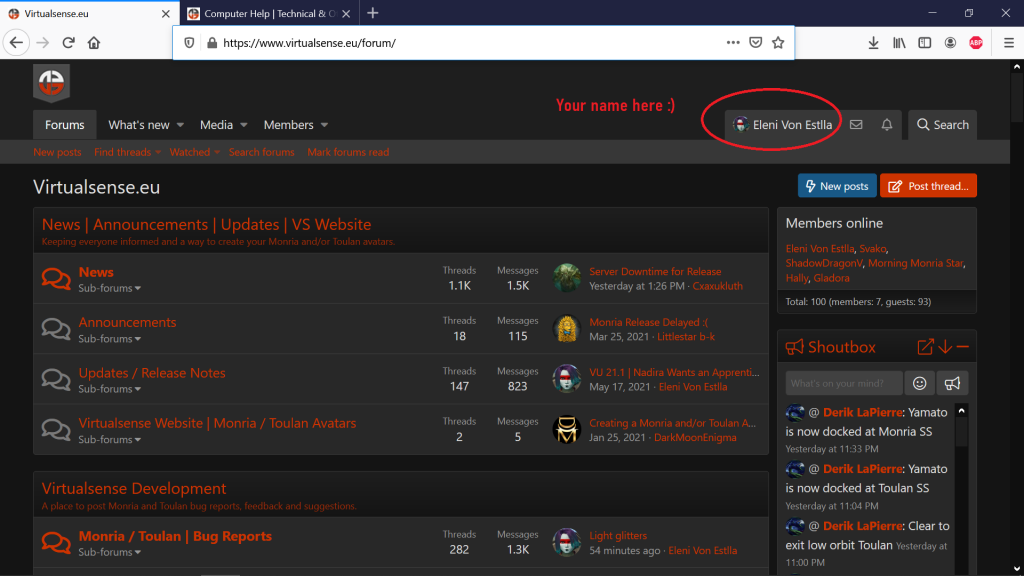 Step 8.
Register for free space travel
Please click on this link :
Virtualsense Space Travel Program / Sign-up List
This should take you to this screen
Step 9.
Scroll down, to the very bottom, to see a "Post a reply" window.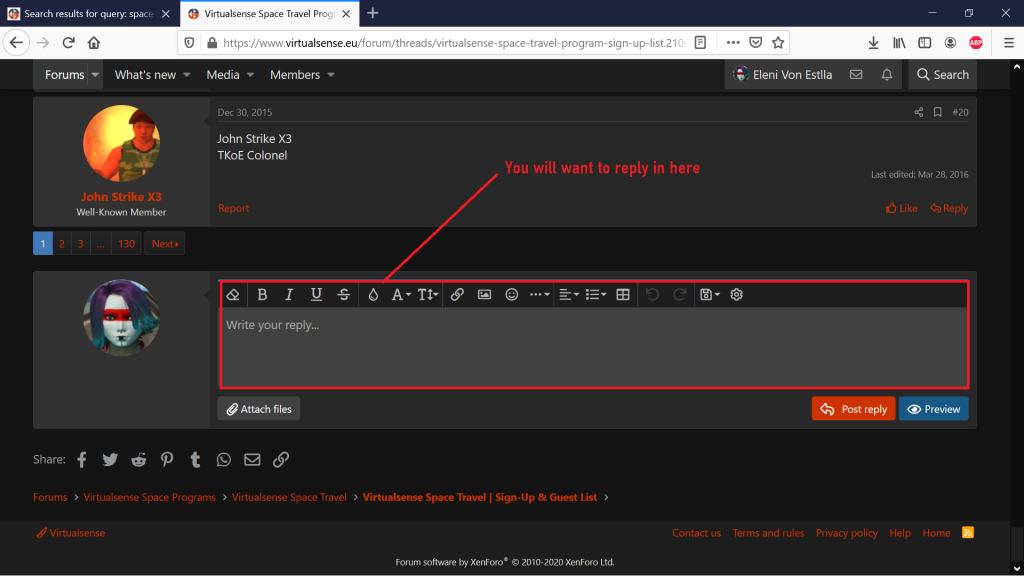 Step 10.
Reply with your full ingame name, and mention you are either:
-Estate owner on Toulan/Monria
-Monria/Toulan Born
-Paying customer
-Super Special and they love you too much
Then click "Post Reply"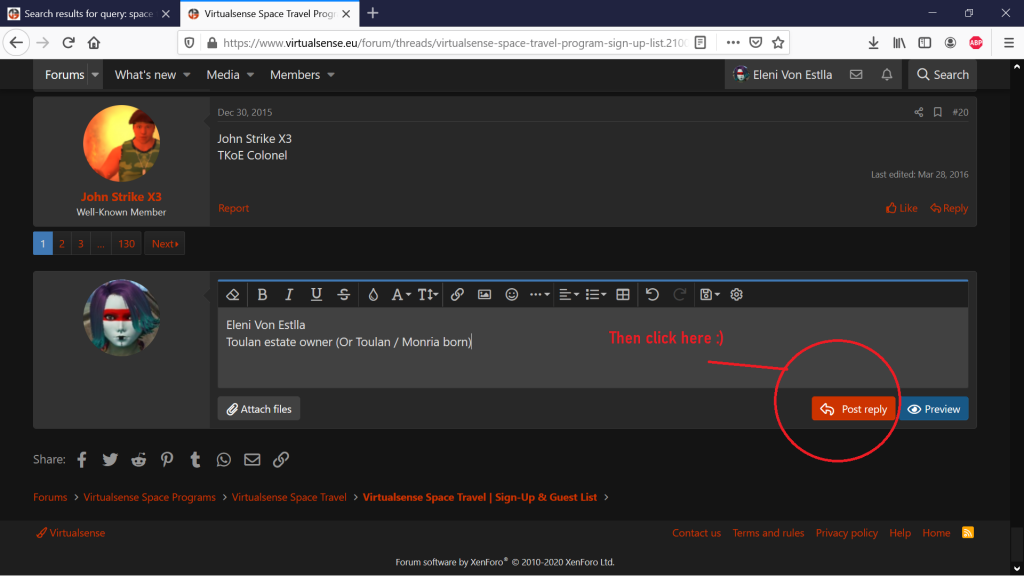 Step 11.
Post 8 times in the shoutbox thread to unlock the shout box.
This is both used to avoid spam hackers profile to post crap on the forum, so need 8 approuved posts from new users.
The shoutbox is vital, to know when the ship will be safely arrived, and if we are attacked ingame.
So you can stay logged off with your loot safe, while we sweat it in space
Please go into this thread (this is the last one, i promise! )
8 posts to see the Shoutbox...
That should get youy on this screen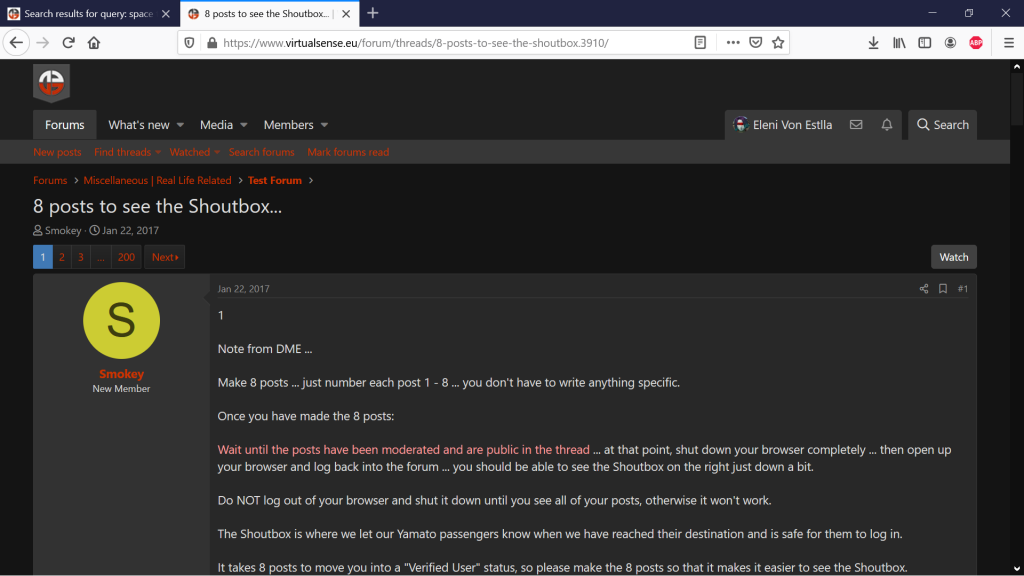 Step 12.
Go down the page, just like you did before, should see that "post a reply" thing again.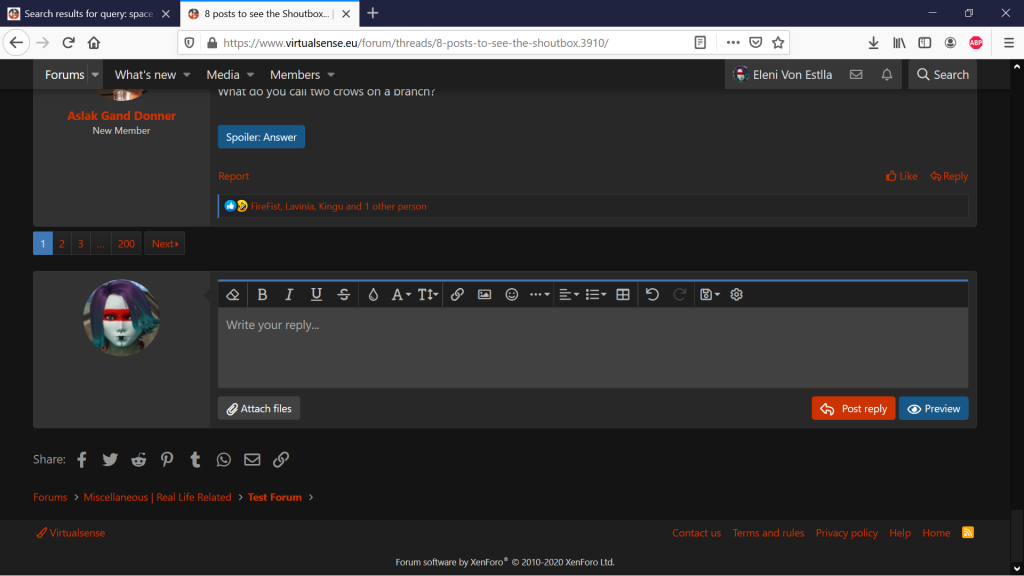 Step 13.
Post a reply. Usually people post the number one.
Youll have to do this 8 times.
Post a reply with 1
Post a reply with 2
Post a reply with 3
Do this to 8 times, and you be good to go.
DM will reply to comfirm you onboard (but she sleeps sometimes, so keep an eye time to time)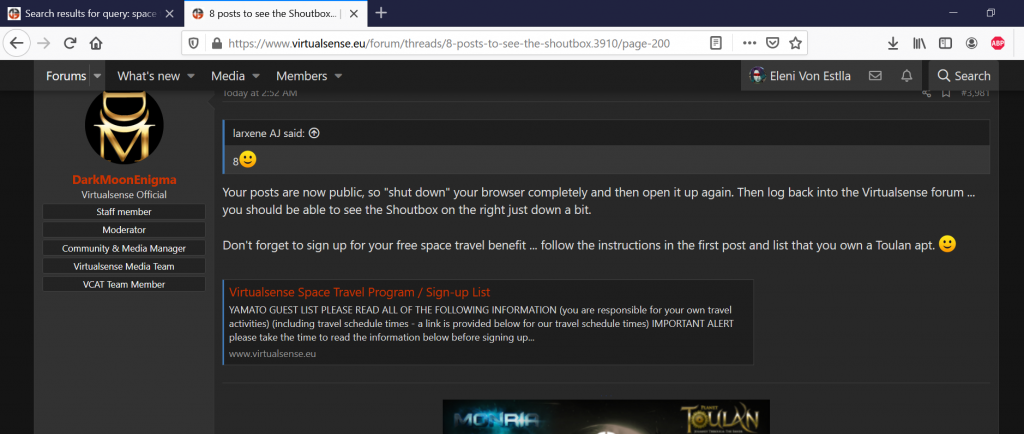 Step. 13.
Accept friend request from Monria Fleet Manager
Then youll be added to the ship list, and youll receive summons from the ship on schedules
Hope this helps,
E~