Virtualsense Official
Staff member
Moderator
Community & Media Manager
Virtualsense Media Team
VCAT Team Member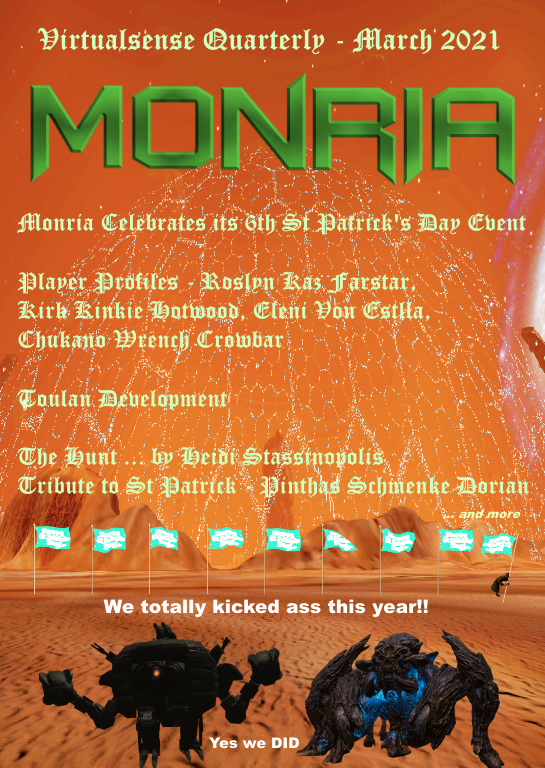 I, and the Virtualsense Media Support Team members for this issue are pleased to present the Virtualsense Quarterly | March 2021 magazine issue with a focus on Monria and its 6th annual St Patrick's Day Event.
Here is the link to access the PDF file for viewing and downloading
:
right click on the link and open in a new tab
you can read the magazine in single page mode in your browser -- it looks nicer, or
you can download the PDF file and open it up in Acrobat Reader
Virtualsense Quarterly | March 2021
If you download the PDF and want to view it in proper two-page view, do the following
:
click on View
then click on Page Display
then choose Two Page View
make sure to check mark the following as well
--- Show Gaps Between Pages
--- Show Cover Page in Two Page View
A huge thank you to Kendra, Shadow and Malgar for their contributions toward making this issue possible, and a big thank you to those who contributed content such as Heidi and Pinthas. Also, much appreciation to our community members who took the time with me to create their player profiles. These are always interesting, and give us an opportunity to learn more about our fellow Entropians.
Thanks to Ant too for kicking it up a couple of notches yet again for this year's St Patrick's Day Event. There was even more coolness and chaos to keep everyone entertained. I know I've mentioned this many times before, but even after 5+ years together as a team, we are just getting started, especially now that we have Toulan, so it's safe to say that everyone can look forward to much more in the way of development for both Monria and Toulan, as well as events.
I know this quarterly issue is a few days late, so I want to thank you for your patience first and foremost, but also for those of you who have been tremendously supportive in this trying time that I'm experiencing right now with my Mother's degrading health. It means a lot to me because it hasn't been possible for me to see her, and it gets overwhelming at times.
Our communities are nothing less than phenomenal, I love that we are so caringly connected.

Thank You