Hi everyone,
I wanted to kindly ask that any Monria/DSEC-9/Toulan residents/born or visiting players to please please download and run the EntropiaLife tracking tool so that globals can get recorded etc on these 3 planets/areas.
It is getting a bit frustrating that all my globals are not getting shown in my EntropiaLife profile and that will be the same for everyone else as well.
I spoke to one of the devs who currently runs the tracker who they taken it over from Starfinder who was friends with me many years ago. And the dev told me that the tool has criteria it must reach in order for it to be counted. So basically for a global to be counted and registered and listed on the website or in players profiles it needs to have been captured by at least 10 players who is running the Client. So basically we need at least 10+ players on any of the VS planets/areas in order for us to get the globals recorded.
Obviously HOF's always get recorded because they are global so they show up on all planets. But globals are limited to the planet you are located on etc.
So I am kindly asking everyone to please please goto this website:
Entropia Life | Login
and if you do not have an account, to create an account, link it to your in-game avatar and then download and run the client.......
What is more is it has an extra feature too, so it also takes screenshots too when you get a hof/global etc. It is easy to set up too. All you need to do is link the chat.log file from your PC's Documents/entropia universe folder and click the start button and then login to EU and then goto the settings screen and click on the interface tab then make sure the enable main chat logging is TICKED like this below screenshot......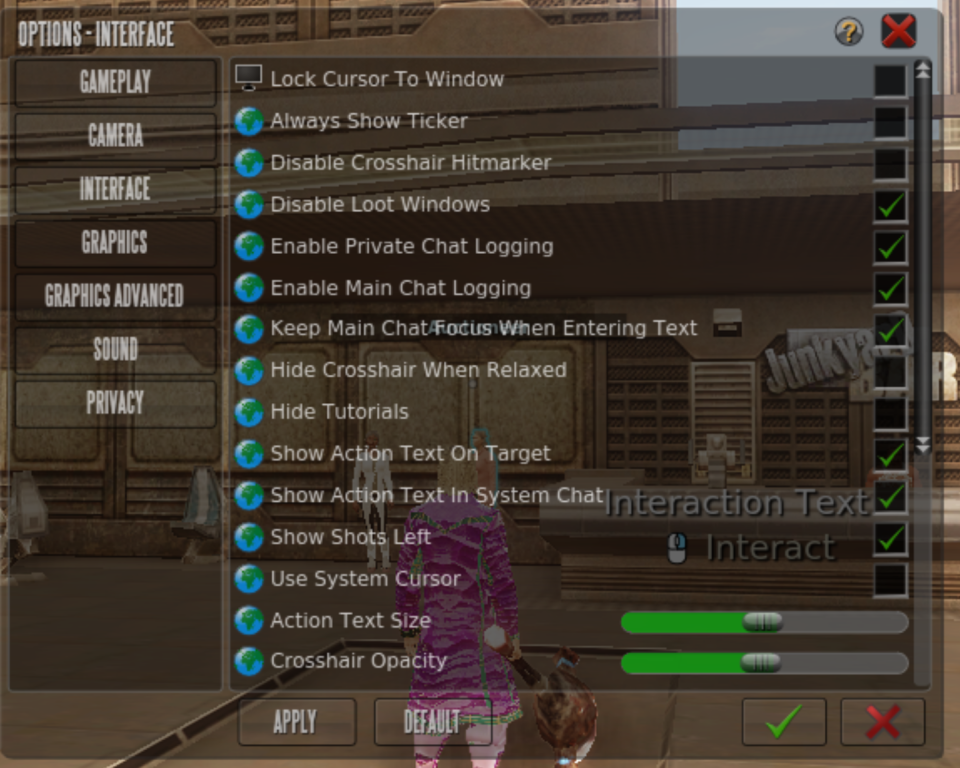 Then once that is done, just go and click start again in the EntropiaLife Client and it should work. To set up the screenshots, just edit the save location you want the screenshots to be saved to when you get a hof/global etc.
So thanks everyone for listening.
I hope that enough players can help everyone out so we dont miss our data not being listed and stored on the EL website.
RJ