Virtualsense Official
Staff member
Moderator
Community & Media Manager
Virtualsense Media Team
VCAT Team Member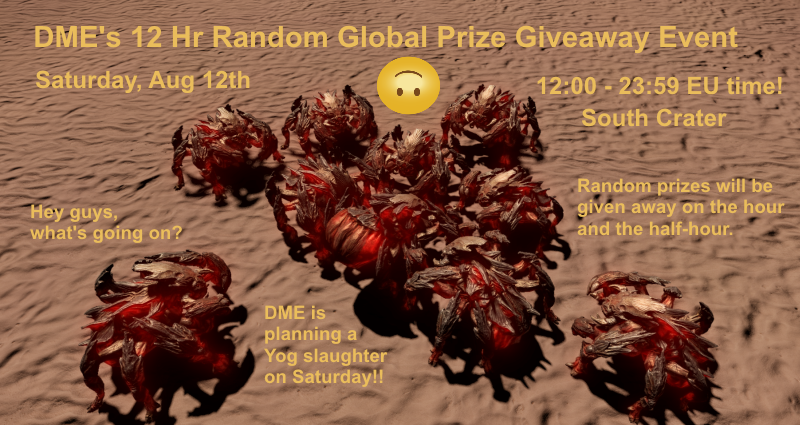 While we're waiting for the rest of the reconstruction to be done on Monria in the Caves and Shub Cavern so that we can start up our main events again, I thought I would try my best to engage the community in a variety of different activities to keep you active and having fun.

This is not like our usual events where there are end prizes to collect for highest or lowest globals/hofs, but rather instant reward for first global/hof on the hour and half hour, and will last for 12 hours.

However, if you've learned anything about us, it's to always "

Expect the Unexpected

" ... so there could be other surprises, and/or ideas I come up with that will up the intensity to drive you mad with curiosity.


It's really quite simple ... show up at the South Crater at the specified time and slaughter you some Yogs.

I realize that there will be some lower-level players (mostly new Monrian Borns) that will be challenged to take on the Yogs, but I am planning a Shoggoth event just for low-level players in the near future.



EVENT DETAILS​





Date

| Saturday, August 12th


Time

| 12:00 Noon - to - 00:00 Midnite EU time - (last global prize at midnite)


Location

| South Crater

Instructions
show up at the South Crater TP between 11:30 and 12:00 EU time before the event starts

see DME to receive ... something

this is a solo hunting event only, so no teaming

make sure to have the Monria chat channel active for instructions throughout the event

please ask questions in Monria chat and refrain from PM'ing me during the event

--- I have to monitor the global tracker and it's easier for me to respond in Monria chat

be considerate of your fellow players during the event

and YES

... we WILL have an increased Yog spawn in the South Crater Saturday

--- this includes named mobs and bosses
About the Prizes
when collecting the prizes for this type of event, I think in terms of practicality and usefulness

however, sometimes I really get random and throw in something out of the ordinary

I cruise our Monria shops for the prizes to support our shop owners

sometimes, someone out of the blue donates a prize for events, I have a few of those too
Information on the increased spawn for the event

:
the progressive Yog pockets as they are now after the reconstruction will remain the same

a previous increased Yog spawn script was used for today as a result of short notice

we will be creating new scripts based on current conditions put in place after the reconstruction

and the new scripts will be used for all future events
Here are the coordinates for the increased spawn pockets

:

[
38415, 18466, 48
]

Persecutor of Abyss
Vacuity of Perforation
Arbitrator The Vermin
Yog Sothoth

[

38683, 18195, 32

]

Yog Scrub
Yog Scraper
Yog Burrower
Yog Delver
Yog Gougher
Yog Tunneler
Yog Dredger
Yog Ransacker
Yog Penetrator
Yog Broodmother

See you on Saturday and don't forget to ...
"
Expect the Unexpected
"
​